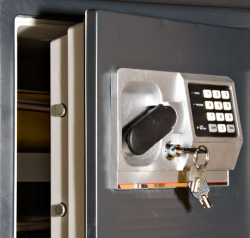 Owning a safe means putting a premium on protecting the things that are most important to you—whether that's money, jewelry, firearms or something else altogether. If your safe combination dial is damaged or its combination has been compromised, call AA Affordable Locksmith in Payson, Gila County, Fountain Hills, AZ. And we can replace your safe lock using the manufacturers original hardware. We can also upgrade to electronic access locks if desired.
Combination changes:
Changing the combination on your safe is a great way to make sure it's still secure, even after years of use. We can reset and reprogram the combination on just about any safe, giving you the peace of mind you need that its contents continue to be safe.
Safe Installation:
Some systems require extensive safe installations to be maximally effective. If you've got a floor or wall safe that needs to be bolted in or secured, we've got technicians who can handle the job. Call our residential or commercial locksmiths for safe installation in Fountain Hills & Payson, AZ.
Types of Safes We Service
There are a lot of different types of safe out there, each offering a different degree of protection or purpose. When you call for a safe repair, you don't want to have to worry about whether or not they can deliver service for your particular type of safe. At AA Affordable Locksmith, we make it easy by servicing any and all types of safes!
Data safes
Fire safes
Burglary safes
Floor safes
Gun safes
Cash drop safes
Depositories
Cash dispensing
TL15 / TL30-rated
Wall safes
For safe installations and lock replacements you can count on—no matter the size or style of safe—contact us at AA Affordable Locksmith today at 480-816-0750. Let us put more than 40 years of experience to work on your safe, to make sure it's offering the best possible protection.